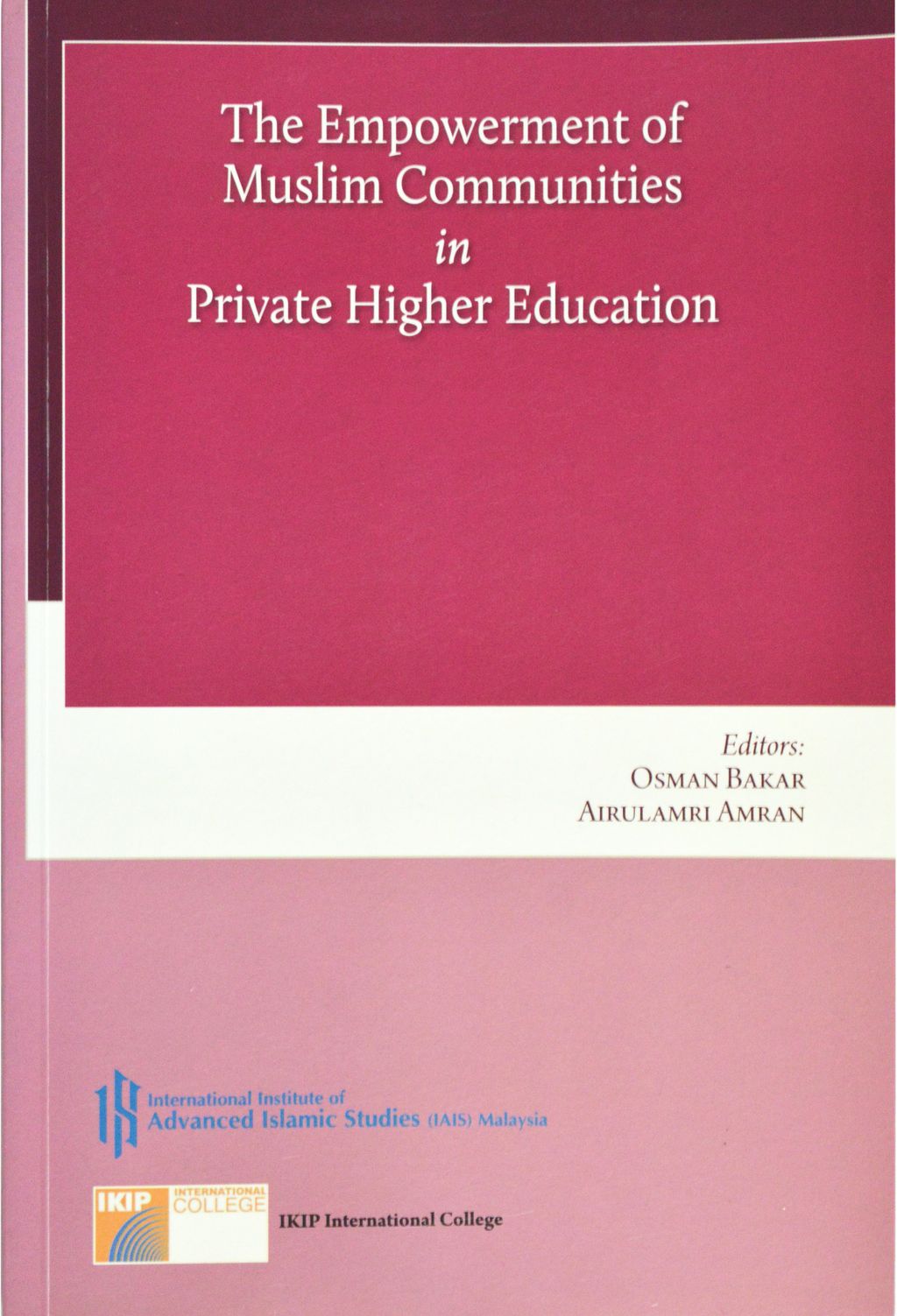 20% Off
The Empowerment of Muslim Communities in Private Higher Education
Proceedings of the Second International Conference on Islam and Higher Education, Kuantan, Pahang, 14-16 November 2011
Editors: Osman Bakar and Airulamri Amran
Kuala Lumpur: International Institute of Advanced Islamic Studies (IAIS) Malaysia and IKIP International College, 2012
242 pages, paperback
ISBN: 978-967-10065-9-7
The new phenomenon of private higher education has generated debates and heated discussions among educationists, policy makers, and members of the general public on its implications for society. There are concerns that without higher motives to serve Islamic ideals of knowledge-society and social justice private higher institutions of higher learning will leave undesirable future cultural, political, and economic impacts on society. A popular concern among Muslims is about the relatively low percentage of Muslim ownership of private universities and colleges and about profit-making as the primary motive of private higher education. Given the cloudy future scenario of private higher education and its societal impact and given the many reservations Muslims have about their future role and contributions in this sector of education, IAIS Malaysia feels it would serve a good purpose if an international conference could be held that will seek to address all the important issues now confronting the Muslims in the field of private education. With this belief IAIS Malaysia together with the Pahang State Foundation and IKIP International College, Pahang with whom it collaborated successfully last year (8-9 November 2010) in organising the International Conference on Islam and Higher Education at IAIS, Kuala Lumpur, decide to work together again this year to organise the Second International Conference on Islam and Higher Education in Kuantan, Pahang, Malaysia.
Disclaimer:
During this Recovery Movement Control Order (RMCO) until 31 March 2021, we are offering 20% and special prices for all our books. Do not worry, we are still posting your books during this RMCO period. We Please purchase at your own convenience.
If you have no idea what to do while staying at home, the best thing to do is to read books!
NOTICE
Delivery will take place only on Wednesday to Friday. Orders made after 5pm will be delivered the next day. Further information will be sent through email.
For other inquiries, please contact (call or Whatsapp) Mr Muhaimin at 013 566 9412.
---