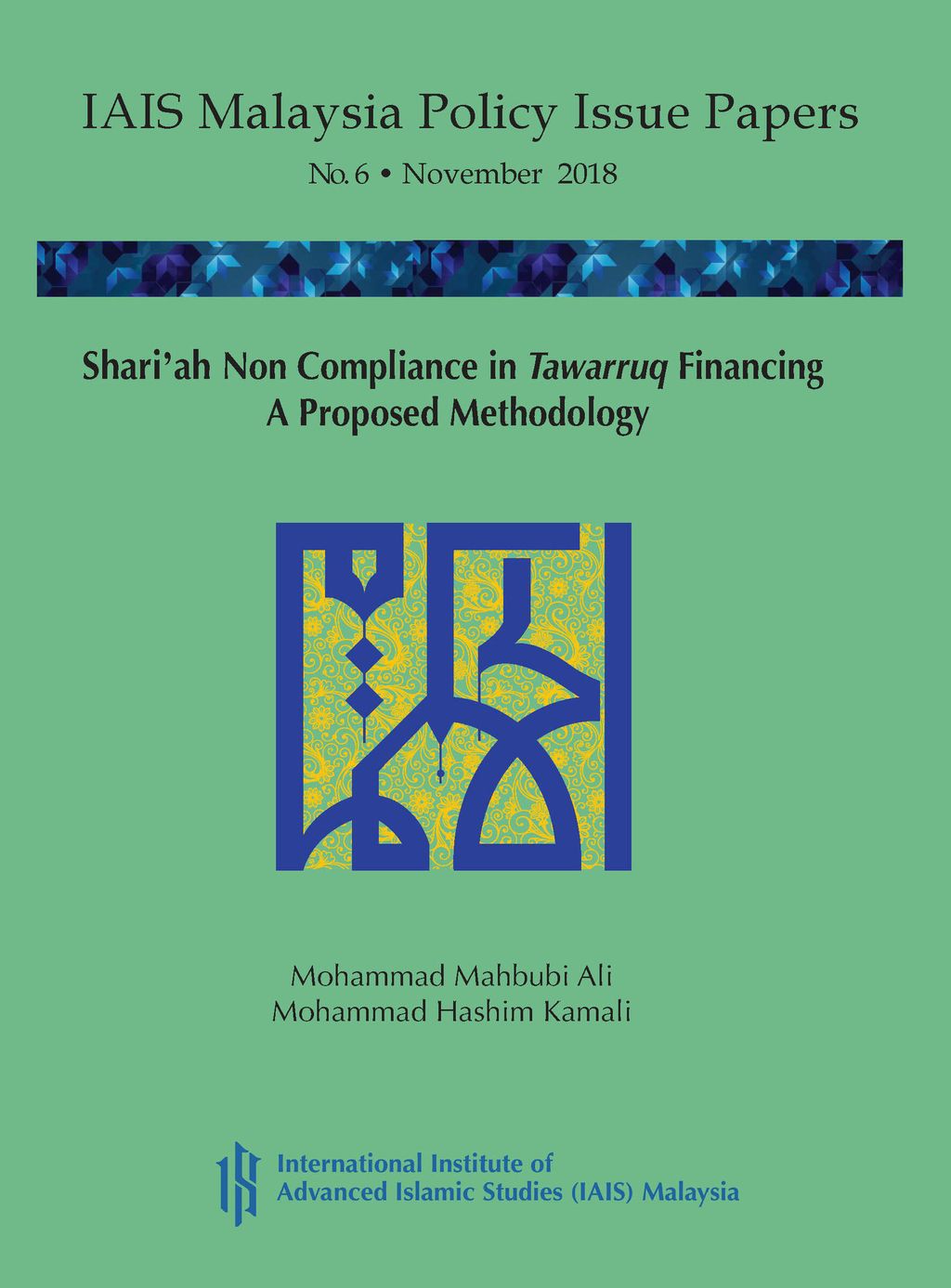 PIP 6: Shari'ah Non Compliance in Tawarruq Financing A Proposed Methodology
PREFACE
On 1st January, 2011, Bank Negara Malaysia (BNM) introduced the Shari'ah Governance Framework (SGF) for the Islamic financial institutions (IFIs) operating under its purview (notably Islamic banks and conventional banks offering Islamic financial services and takaful companies). The SGF aims to strengthen Shari'ah governance structures, processes, and arrangements of the IFIs so as to ensure that Shari'ah-compliant aspects are in place. The SGF requires IFIs to institute clear internal control and remedial rectification measures to address Shari'ah non-compliant incidents in a holistic manner.
The Islamic Financial Services Act (IFSA), which was enacted in 2013, further reinforced the policy orientation of having IFIs ensure that their aims, operations, and business activities are all in compliance with the Shari'ah. Failure of an IFI to adhere to Shari'ah-compliance requirements will subject it to criminal and civil penalties in the form of imprisonment of its executives and financial penalties. Section 28(8) of the IFSA clearly states: "Any person who contravenes subsection (1) or (3) commits an offense and shall, on conviction, be liable to imprisonment for a term not exceeding eight years or to a fine not exceeding twenty-five million ringgit or to both."
To complement SGF 2011 and IFSA 2013 and to strengthen Shari'ah compliance culture among IFIs, BNM has also issued a number of Shari'ah standards featuring the most prevailing and applicable contracts and principles in Islamic banking and takaful industry in Malaysia. One of the main Shari'ah standards issued by BNM is the Shari'ah standard on tawarruq.
The Shari'ah standard on tawarruq outlines specific Shari'ah and operational requirements to ascertain Shari'ah compliance and mitigate the occurrence of Shari'ah non-compliance incidents. Ensuring Shari'ah compliant aspects is, however, not a simple and straightforward matter. Human error as well as poor governance, business processes and supporting systems; in addition to lack of awareness and understanding of Shari'ah matters are among factors which might trigger Shari'ah non-compliance (SNC) events in IFIs. Nonetheless, no specific Shari'ah guidelines and frameworks have made available so far on how to deal with SNC events. The treatment and rectification mechanism for SNC events in IFIs rely heavily upon the direction of their Shari'ah committee. On the other hand, tawarruq assumes a relatively high degree of Shari'ah non-compliance risk compared to other contracts mainly because it involves a series of sale contracts that are conducted in succession.
Amid the heightened regulatory framework and high expectation of Shari'ah compliance standard in Malaysia, the IAIS policy issue paper presents the proposedShari'ah methodology to deal with the various SNC events in tawarruq financing activities. Each potential Shari'ah issue is presented together with its proposed rectification mechanism. We hope that the policy issue paper will serve as a source of reference to the policy makers and Shariah committees in formulating comprehensive policy framework and guidelines for dealing with Shariah non-compliance activities in IFIs.
Professor Mohammad Hashim Kamali
Founding CEO
IAIS Malaysia
January 2019
NOTICE
For other inquiries, please contact (call or Whatsapp) Mr Muhaimin at 013 566 9412.
---